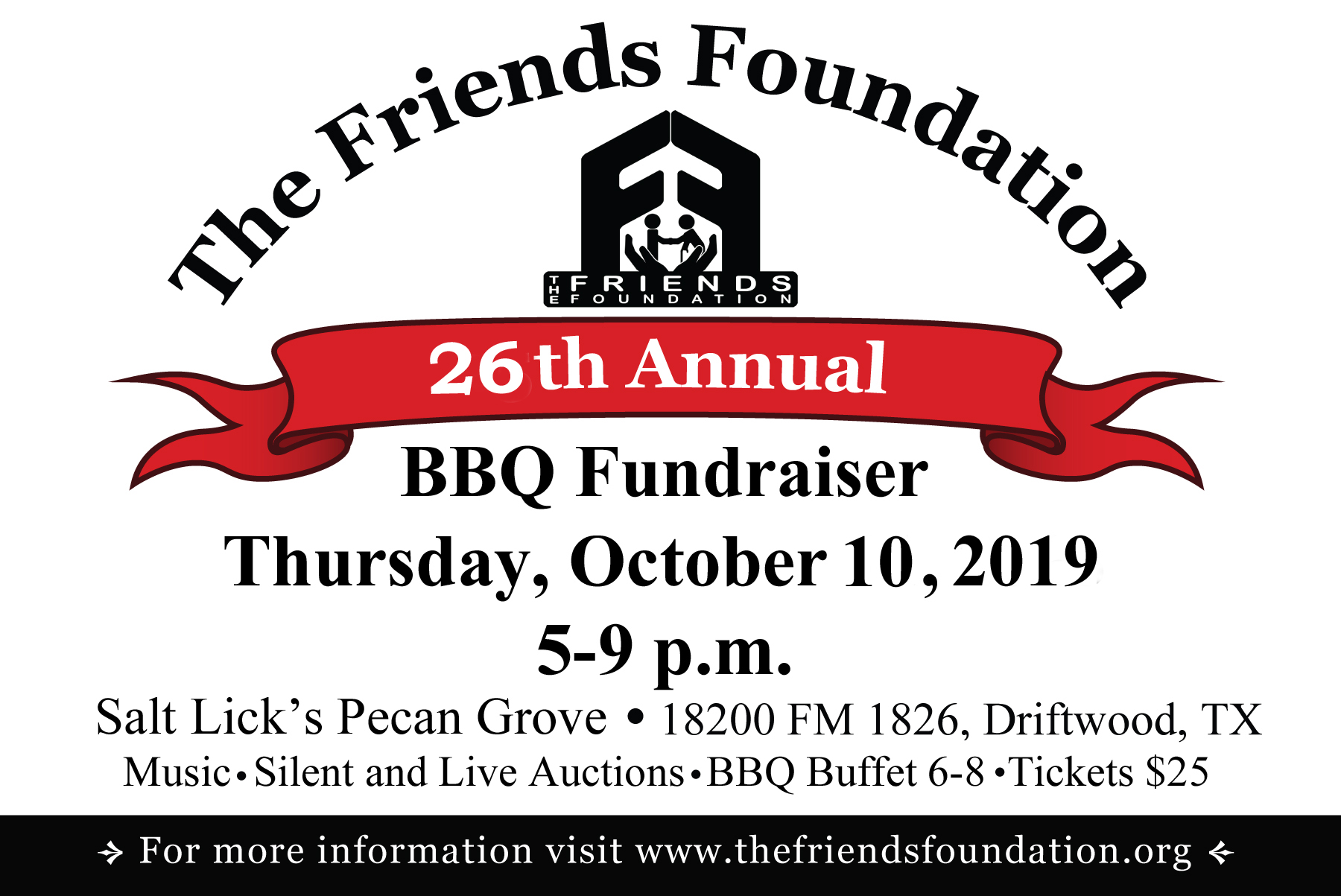 What a night it was for our 26th Annual Fundraiser!

The Friends Foundation held our 26th Annual BBQ Fundraiser at Pecan Grove (formerly the Salt Lick Pavilion) at 18200 RM 1826 in Driftwood on Thursday, October 10, 2019; from 5:00 – 9:00 p.m. This was an evening of live music by Hot Texas Swing Band, a silent and live auction, Salt Lick BBQ, and more. Driftwood's own Penny Reeves of Graymar Farm was our Master of Ceremonies. Professional Auctioneer George Vaught managed and conducted our Live Auction. Sincere thanks to our Extra Special Angels sponsors and thanks to all who were a Sponsor at any level and to those who purchased BBQ tickets, bid in our silent auction, participated in our live auction, played Split the Deck or our fun game of Heads or Tails. We simply could not sustain our programs without your support.
This annual fundraiser and donations are critically important in helping to provide necessary services to the elderly in the greater Dripping Springs Area. With your support we are able to provide meals for Our Daily Bread – a hot meal delivery program for the home-bound, medic alert devices for summoning help in an emergency, financial assistance for low income seniors in times of dire need, funding for special events at Hill Country Nursing and Rehab for their residents, and numerous other programs beneficial to the elderly. The Friends Foundation is proud to be an all volunteer non-profit 501(c)(3) organization.
"If you think you have nothing to give, look around and see how some people live." ™
You can always make a difference in the lives of the elderly. One time or monthly monetary donations can be made online now by clicking on the donate button found on this page. Donations by check can be mailed to The Friends Foundation P.O. Box 8 Dripping Springs, TX 78620
For more info or to inquire about volunteer opportunities please email info@thefriendsfoundation.org or call us at (512) 592 1345.
The community's support has been phenomenal in our fundraising efforts. As Dripping Springs grows, the needs of the elderly in the community are increasing. We have been meeting these needs for a long time and we count on you to help us each year.
Thanks to the loyal support we have received for decades we are able to continue our work. Our hope is those new to the community will help us continue these good deeds by joining us with their support. "Doing good deeds to meet the elderly's needs" ™
And a BIG THANKS to our vendors, all of our volunteers, Hot Texas Swing Band for their music and Shelly Elena Photography too.
Thanks y'all: Dripping Springs Distilling, Duchman Family Winery, Thirsty Planet Brewery and Thai Gourmet for serving samples in our hospitality area. Thanks to Troop 101 for assisting with parking and to Rent Equip for providing portable lighting in the parking lots. Click on any logo below to visit their website. We hope you will be joining us in 2020, see you there …