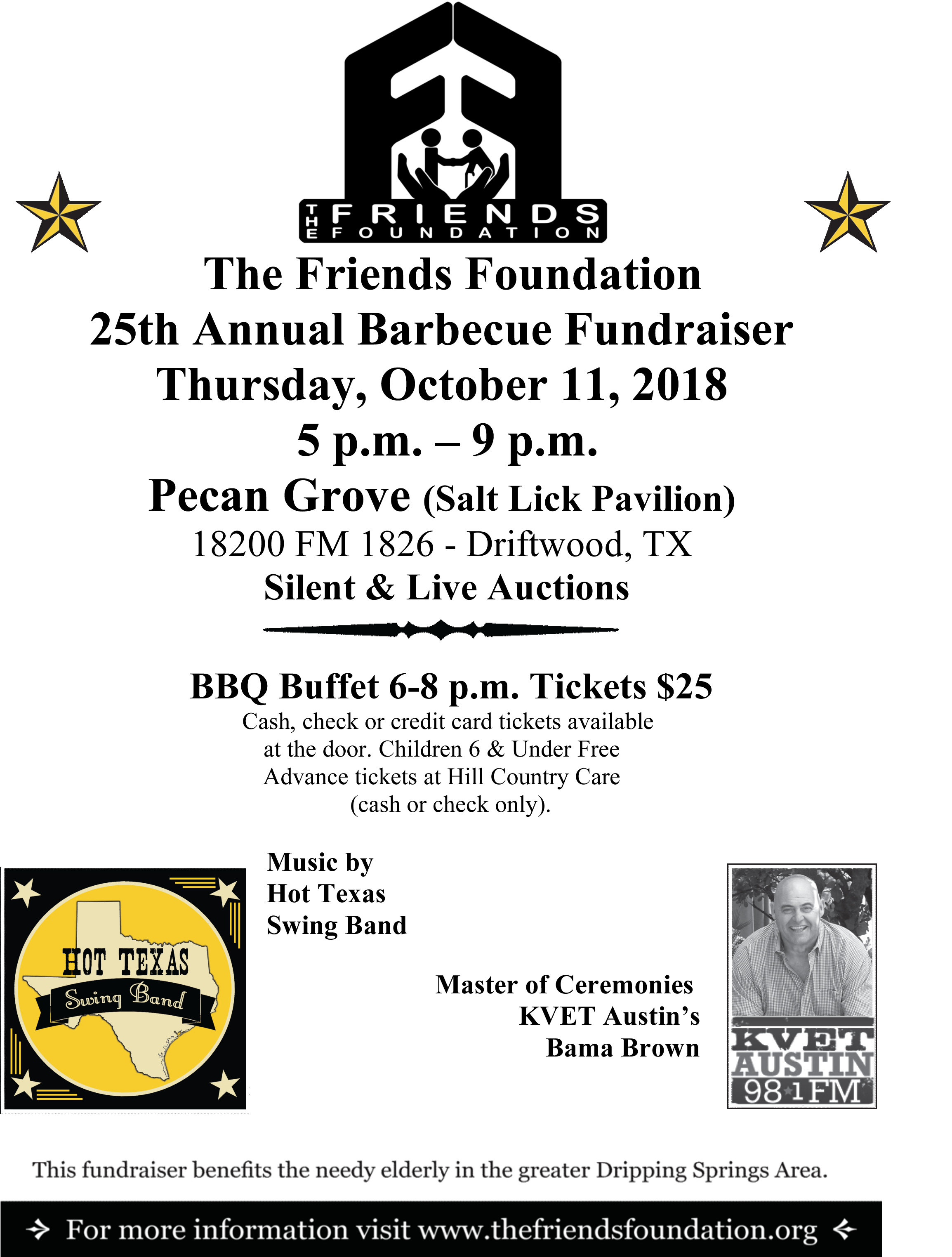 Thanks to these generous community minded businesses who will be serving complimentary product samples at our 2018 BBQ Fundraiser (see more details about this event below).

Our 25th Annual BBQ Fundraiser!
What a great night it will be on Thursday, October 11, 2018.

Pecan Grove (The Salt Lick Pavilion) will again be the setting for our BBQ Fundraiser. We had an amazing crowd and loads of fun last year during the Silent Auction, Live Auction, playing our Heads or Tails game, and enjoying music by Hot Texas Swing Band. The 25th Annual BBQ is sure to be even better.
In preparation for this year's milestone fundraising event we are soliciting Sponsors and donors for our silent auction and our live auction. Please consider being a Sponsor and supporting us this year by simply downloading, completing and mailing in the Sponsor form below. If you would like to donate an item for our silent or live auction please email info@thefriendsfoundation.org or call us at (512) 592 1345. Monetary donations can also be made online by clicking on the donate button found on this page.
The community's support was phenomenal in our fundraising efforts last year, and as the needs in the community increase, we hope to surpass that this year. We sincerely appreciate all of our Sponsors, the businesses and individuals who contributed to our Silent Auction, as well as our Live Auction.
This annual fundraiser is critically important in helping to provide necessary services to the elderly in the greater Dripping Springs Area. Sponsorships and donations provide meals for Our Daily Bread – a hot meal delivery program for the home-bound, medic alert devices for summoning help in an emergency, financial assistance for low income seniors in times of dire need, funding for special events at Hill Country Care for their residents, and numerous other programs beneficial to the elderly. The Friends Foundation is a non-profit 501(c)(3) organization.